ATHENS, Ga. — Landmark Properties, a fully integrated real estate firm specializing in the development, construction, investment management, and operation of high-quality residential communities, has acquired Knightshade, in Orlando, Florida. Knightshade, formerly known as The Retreat at Orlando, was originally developed by Landmark Properties in 2014. This acquisition represents Landmark's eighth acquisition in 2022. The new communities add 4,774 beds to the Landmark portfolio.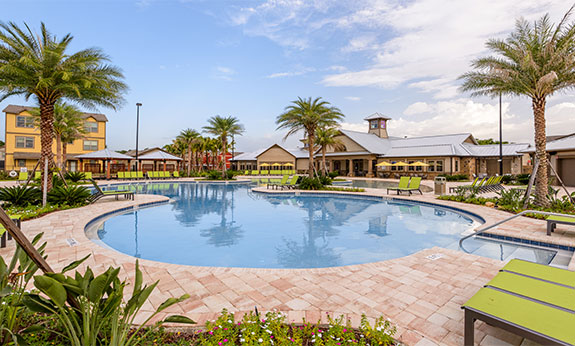 The 2022 acquisitions are in states across the country, including Florida, Michigan, Massachusetts, Oregon, South Carolina, Tennessee, and Texas. With the addition of these latest properties, Landmark increases the value of its student housing portfolio to over $10 billion.
"We continue to focus on acquiring quality student housing and operating it in a first-class manner to provide our residents with a truly unique living experience, said J.D. Goering, head of acquisitions for Landmark Properties. "We feel our acquisitions to date have accomplished that goal and we look forward to growing our portfolio in the future."
Knightshade will be rebranded as The Retreat West and represents Landmark's third student housing community in Orlando, Fla.
About Landmark Properties
Headquartered in Athens, Ga., with an office in Atlanta, Landmark Properties is a fully integrated real estate firm, specializing in the acquisition, development and management of high-quality residential communities. With more than $10 billion assets under management, Landmark's portfolio includes over 100 residential communities across the country with nearly 60,000 beds under management (owned and third-party managed). Additionally, Landmark benefits from an active development pipeline with 21 student and multifamily projects under construction with an estimated value at $3.7 billion. Landmark's mission is to be the leader in development, construction, operations, and investment management of high-quality residential communities, delivering unrivaled service and experience to our residents, partners, and employees. For more information, visit www.landmarkproperties.com.
# # #
Media Contact:   
Kelly Gray
(706)715-6878