Nation's top student housing developer leases space at One Buckhead Plaza to house the company's new Build to Rent division
ATHENS, Georgia (July 1, 2021) — Landmark Properties, the nation's top developer of student housing, will open an Atlanta office at One Buckhead Plaza this fall. The office will house a new division of the company focused on single-family rental home neighborhoods, commonly referred to as "build-to-rent" in the industry, along with members of its growing corporate and development team.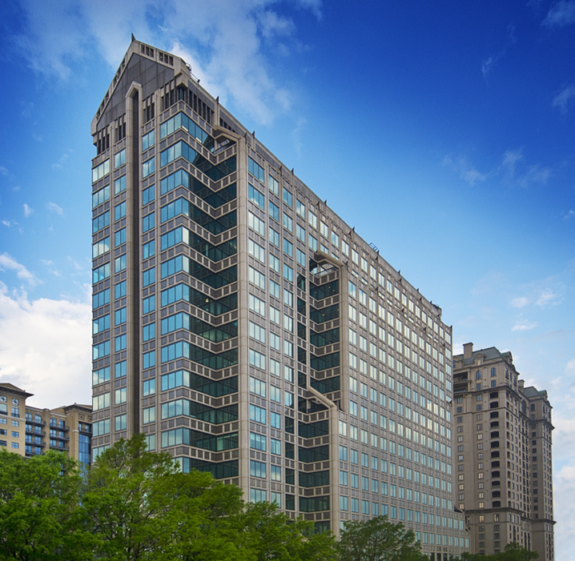 "While we pride ourselves on our deep roots in Athens, we also recognize the deep pool of talent in Georgia's capital city and look forward to growing our presence in Atlanta," said Landmark President and CEO Wes Rogers. "Our business has grown across the country both organically in our student housing business as well as expanding into new verticals like build-to-rent. To attract and retain the best talent in the industry, and better host our growing list of partners, we felt opening an additional office in the heart of Buckhead was a wise decision."
Landmark will remain headquartered in downtown Athens, where it has 39,419 square feet of office space.
New Opportunities In Build-To-Rent
According to Rogers, Landmark has grown over two decades by seizing opportunities where others have not.
"The demographics are right, the opportunity is there, and we have an integrated, scalable platform that will allow us to efficiently find land, work with communities to understand the value we bring, and develop high quality communities," said Rogers, noting that Landmark is also the nation's largest contractor for student housing. "As our country and region navigate a demographic transition, we are well positioned to develop and build a variety of housing types for not just college students but others who desire an unmatched rental experience."
The U.S. Census bureau reported only 38.1 percent of households under the age of 35 were homeowners in the first quarter of 2021. A recent study on millennial homeownership from the Urban Land Institute reported millennial home ownership to be 8 percent lower than rates of Gen Xers and baby boomers at the same age.
A recent survey by Freddie Mac revealed many renters are renters by choice. Since 2016, the percentage of renters desiring to own a home in the future has decreased from 42% to only 18% today. Landmark's build-to-rent offering will bring more single-family homes on the market without requiring renters to save for a down payment or incur the ongoing costs of home ownership.
"As millennials move into the stage where they wish to move out of apartments, single-family houses for rent have become an important way for the generation to take advantage of the benefits to a neighborhood without the long-term financial commitment to home ownership," said Blair Sweeney, managing director of Landmark's build-to-rent division. "We are excited to bring our track record of quality housing and unparalleled property management to a new segment of the market."
New Atlanta Office
The Atlanta office is in the heart of Buckhead. Landmark has leased 7,995 square feet of space on the fifth floor of One Buckhead Plaza, the class A tower owned by Cousins Properties.
A 20-story tower, One Buckhead Plaza is located at 3060 Peachtree Road NW and is surrounded by a variety of desirable amenities and is an easy walk from local restaurants and businesses. The One Buckhead Plaza leasing deal was brokered by John Thornton at Capital Real Estate Group on behalf of Landmark. Cousins Properties was self-represented.
Currently, Landmark has 18 projects under construction representing more than $3.5 billion in value. The company has also launched two projects in downtown Atlanta serving students from Georgia State and Georgia Tech in the past five years. Those projects include The Retreat on Milledge near the University of Georgia (2021), The Retreat at Orlando near the University of Central Florida (2021), The Retreat at Kennesaw near Kennesaw State University (2021), The Standard at Ann Arbor near the University of Michigan (2022), The Mark (Phase II) near the University of Georgia (2022), Legacy at The Standard near University of Florida (2022), The Standard at College Park near University of Maryland (2023) and The Standard at Seattle near the University of Washington (2023).
About Landmark Properties
Ranked as the nation's most active student housing developer and top student housing contractor, Landmark Properties is a vertically integrated developer and owner-operator with over $7.5 billion of assets under management. Landmark's current portfolio includes more than 75 student housing properties across the country and over 50,000 beds, including over $3.5 billion in assets currently under construction. For additional information, visit www.landmarkproperties.com.
Media Contact
Brian Brodrick
(404) 983-4384
bbrodrick@jacksonspalding.com