ATHENS, Ga., (August 15, 2022) – Landmark Properties, a fully integrated real estate firm specializing in the development, construction, investment management, and operation of high-quality residential communities, announced that construction is under way to develop a new residential property in Ann Arbor with two buildings — a high-rise and a mid-rise on Washington Street — both adjacent to the historic Michigan Theater.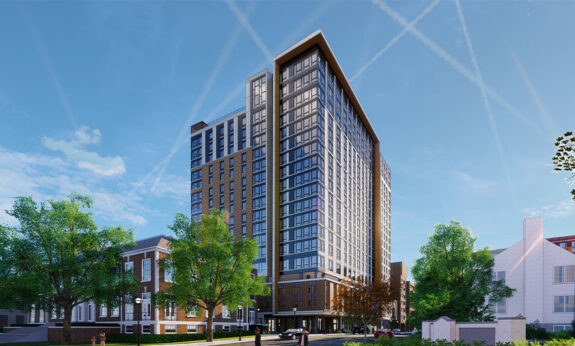 The Legacy at Ann Arbor features a 19-story high-rise — soon to be the second-tallest residential building in Ann Arbor — and will include 521 beds across 253 apartments with high-quality finishes throughout. The high-rise will offer 19 affordable apartments to be made available to qualifying households. The mid-rise structure will house newly constructed restrooms for the Michigan Theater.
"Landmark is proud and excited to start construction on our second Ann Arbor development adjacent to such a significantly historic building in the city," said Wes Rogers, president and CEO of Landmark Properties. The Legacy's location will appeal to students and professionals wanting to live in the heart of Downtown Ann Arbor."
The mixed-income residential development is a joint-venture with Cerca Trova, LLC, a Bloomfield Hills, Michigan-based real estate investment company which also developed Ann Arbor's Corner House Lofts and owns and manages the Goldman Building, both on State Street.
The development includes 4,150-square-feet of ground-floor retail space, with an outdoor terrace and more than 9,700-square-feet of amenities, including study rooms for office work and group learning, outdoor terraces, a rooftop pool deck with stunning views of campus and downtown Ann Arbor, and a fitness center. Its location allows for increased walkability to University of Michigan's campus and nearby retail, dining, and entertainment options.
"This project represents the finest and most unique location for a quality, mixed-use development in Ann Arbor," said Howard M. Frehsee, CEO of Cerca Trova. "It also represents years of complicated and intense work, negotiations and risk. All the stars had to align for the project to come to fruition."
The property will be ready for occupancy in August 2024 and residents can choose from several distinct floor plans ranging from studios to five-bedroom apartments.
The University of Michigan ranked #1 on a 2022 list of the best public universities, according to the Wall Street Journal/Times Higher Education's U.S. College Rankings data. Founded in 1817, the University has a simple beginning. By 1866, it was the largest campus in the country. Today, the University of Michigan is one of the biggest research universities in America, with more than 50,000 full-time students.
About Landmark Properties
Headquartered in Athens, Ga., with an office in Atlanta, Landmark Properties is a fully integrated real estate firm, specializing in the acquisition, development and management of high-quality residential communities. With more than $10 billion assets under management, Landmark's portfolio includes almost 100 residential communities across the country with approximately 58,000 beds under management. Additionally,
Landmark benefits from an active development pipeline with 21 student and multifamily projects under construction with an estimated value at $3.7 billion. Landmark's mission is to be the leader in development, construction, operations and investment management of luxury housing communities, by delivering unrivaled service and experience to residents, partners and employees. For more information, visit www.landmarkproperties.com.
# # #
Media Contact:
Landmark Properties
Kelly Gray