464-bedroom Joint Venture with W5 Group Will Deliver Top-of-the-Market Amenities for UF students
ATHENS, Georgia (October 7, 2021) — Landmark Properties today announced a new student housing development near the University of Florida's main campus in Gainesville. This new community is the third in a joint venture between Landmark, the largest student housing developer in the United States, and W5 Group, whose principals were early pioneers of student housing in Europe. Construction on the new property, named The Metropolitan at Gainesville, will commence in the fall of 2021 and is slated for completion ahead of the 2023-24 school year.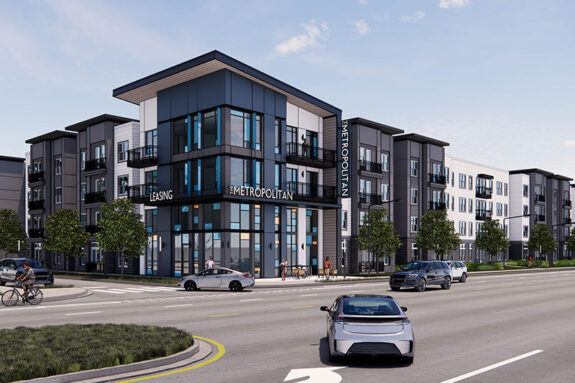 Located within walking distance of the University of Florida (UF) and served by a campus shuttle, The Metropolitan will include 464 bedrooms in 169 units. Each bedroom will have its own private bathroom and residents will enjoy access to modern amenities and home comforts that include a resort-style pool, fitness center, study lounge, jumbotron, and high-speed wireless internet. In addition, units will feature state-of-the-art electrical appliances—including washer-dryers—and luxury vinyl flooring. There will also be 399 parking spaces and 142 scooter parking spaces available onsite. Landmark will develop and operate the property.
"We are pleased to be developing our latest student housing community at UF, which has historically been one of our best-performing markets and one where our current assets are 99 percent leased," said Wes Rogers, president and CEO of Landmark. "We are especially excited about growing our relationship with W5 Group as they expand their foray into U.S. student housing."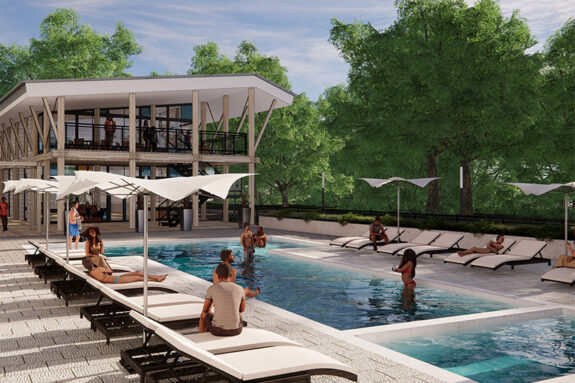 The University of Florida is the state's flagship university and one of the largest in the United States by enrollment, with almost 53,000 on-campus students as of the 2020-21 school year. Recently, the institution was ranked by U.S. News & World Report as one of the Top 5 Public Schools in the United States. In addition, it boasts a top-rated athletics program, with teams competing in the National Collegiate Athletic Association (NCAA) Division I and the Southeastern Conference (SEC).
"Among other things, the COVID-19 pandemic has underscored the value of in-person learning and created a strong appetite for the residential college experience," said Ralph Winter, principal and founder of W5 Group. "We see tremendous resiliency in student housing, and our work in this space reflects W5 Group's innovative yet disciplined investment thesis. We're looking forward to continuing our partnership with Landmark to deliver another premier student housing development at a leading public university."
The Metropolitan follows the successful completion of The Retreat East, a purpose-built student housing community in Orlando that marked the second collaboration between Landmark Properties and W5 Group. The Orlando property, which provides upscale housing options for University of Central Florida students, was delivered in August 2021 on time and on budget. It also achieved 100 percent occupancy in its first lease-up.
"Florida is experiencing significant population growth, which is likely to translate to increased enrollment at highly ranked public research institutions such as UCF and UF," said Raphael Sidelsky, W5 Group's chief investment officer. "At the same time, the student housing sector continues to exhibit strong fundamentals. We're energized to work with best-in-class partners like Landmark that share our vision, industry expertise and proven ability to deliver."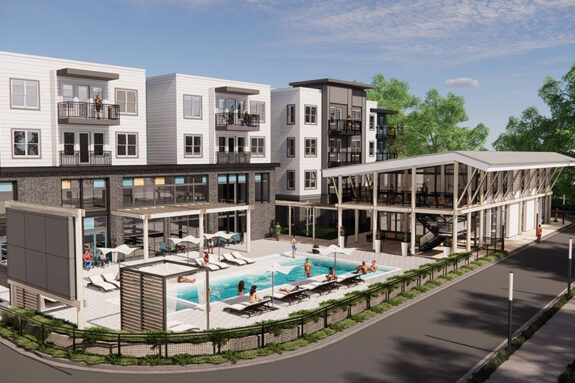 W5 Group has established a strong track record of investing in innovative living real estate concepts that emphasize core tenets of value, community, flexibility, design and technology. Within student housing, W5 Group targets equity, preferred equity, or mezzanine investments of $20 million or greater in developments and existing assets near leading universities with strong enrollment and attractive supply and demand fundamentals.
About Landmark Properties
Ranked as the nation's most active student housing developer and top student housing contractor, Landmark Properties is a vertically integrated developer and owner-operator with over $7.7 billion of assets under management. Landmark's current portfolio includes more than 80 student housing properties across the country and over 51,400 beds, including over $2.3 billion in assets currently under construction. For additional information, visit www.landmarkproperties.com.
About W5 Group LLC
Established in 2009, W5 Group is the single-family office of prominent European real estate investor and entrepreneur Ralph Winter. W5 Group has investment teams in the United States and Europe, spanning offices in New York, Miami, and Switzerland. The firm seeks long-term value creation and invests across asset classes and capital structures, with a primary focus on innovative residential investments in multifamily, student housing, co-living, differentiated hospitality and single-family rentals. W5 Group has permanent capital and seeks to create enduring value and long-term partnerships with high-quality operating partners. For more information about the firm, see here.