Partnership with Peninsula Investments and W5 Group will Redevelop the Property to Feature 296 Bedrooms
ATHENS, Ga., (February 1, 2022) – A joint venture of Landmark Properties, Peninsula U.S. Real Estate and W5 Group today announced plans to renovate and add additional new townhome units to The Cloisters, an existing apartment community two blocks from the University of Miami. Current residents will fulfil their current lease contracts; construction will begin in Summer 2022 and is scheduled for completion Fall 2023.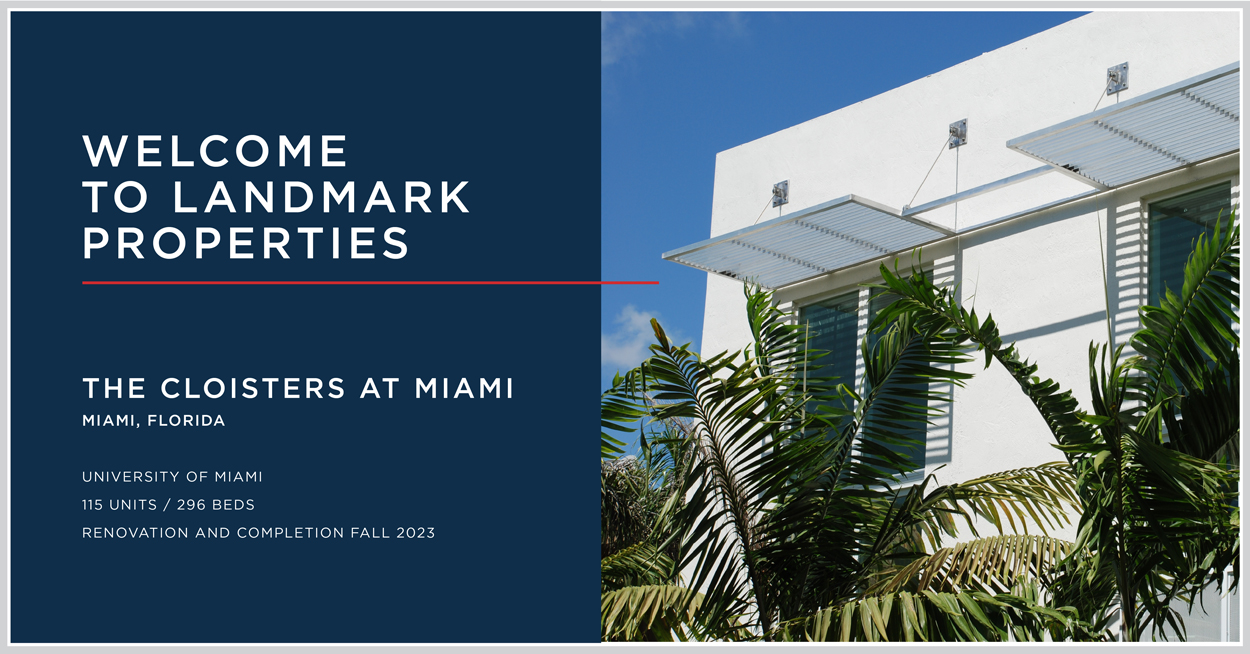 The development will feature a complete makeover to the current Cloisters apartment building located at 5830 SW 57th Avenue in Miami along with the addition of newly constructed townhomes on adjacent property. After project completion, the property will feature a total of 115 units and 296 total bedrooms.
Additionally, the renovation will reimagine The Cloisters at Miami's common spaces and amenities. Renovated spaces will feature high-end amenities, including a resort-style pool, state-of-the-art fitness center and high-quality outdoor spaces for sporting activities and community gatherings.
"We're excited to partner with W5 Group and Peninsula again," said Wes Rogers, President and CEO of Landmark. "The Cloisters will help meet a significant unmet need for high quality housing near the University of Miami."
Landmark is a fully-integrated real estate firm specializing in the development, construction, management, and investment of high-quality living communities across the U.S.
Recent reports show that The University of Miami has an undergraduate enrollment of 11,334. The private educational institution touts an endowment of $1 billion, is renowned for its undergraduate research opportunities and is ranked no. 49 among national universities, according to World University Rankings.
"The University of Miami has attracted a record number of applicants in 2021 and welcomed one of its largest freshman classes, which is a tribute to the quality of the university as well as the allure of Miami as a place to live," said Raphael Sidelsky, chief investment officer at W5 Group. "We are delighted to team up with Landmark and Peninsula to provide additional high-quality amenitized housing in the area."
"Peninsula U.S. has worked on this project for the past five years, The Cloisters sits on an irreplaceable location, in a market with high barriers to entry adjacent to one of the best universities in Florida. We are thrilled to further strengthen our strategic partnership with Landmark Properties across many universities and with W5 in upcoming Florida investments." said Juan Fernando Valdivieso, Managing Partner of Peninsula U.S.
About Landmark Properties
Ranked as the nation's most active student housing developer and top student housing contractor, Landmark Properties is a vertically integrated developer and owner-operator with over $7.8 billion of assets under management. Landmark's current portfolio includes more than 80 student housing properties across the country and over 51,700 beds, including over $2.3 billion in assets currently under construction. For additional information, visit www.landmarkproperties.com.
About Peninsula U.S.
Peninsula U.S., a vertical within Peninsula Investments Group, invests in General Partner equity positions alongside leading developer/operators in student and senior housing projects in the U.S. Peninsula also provides mezzanine debt and preferred equity to selected projects. Peninsula has a growing and diversified portfolio of 12,000 beds in 45 properties across 16 U.S. states and the UK, representing $3.1 billion of total development costs. www.peninsulainvestments.com
About W5 Group LLC 
Established in 2009, W5 Group is the single-family office of prominent European real estate investor and entrepreneur Ralph Winter. W5 Group has investment teams in the United States and Europe, spanning offices in New York, Miami, Washington DC and Switzerland. The firm seeks long-term value creation and invests across asset classes and capital structures, with a primary focus on innovative residential investments in multifamily, student housing, co-living, differentiated hospitality and single-family rentals. W5 Group has permanent capital and seeks to create enduring value and long-term partnerships with high-quality operating partners.